ALARA 40th Birthday Celebration - 25 July 2015
We met up with most of the participants attending the birthday party on Friday night at the Mountain View Hotel, Glen Waverley. Being July it was cold and wet. First we all discussed how we got there and what we thought of Melbourne traffic. The dining room was quite busy but the staff had reserved a good nook for our group and they had 'Christmas in July' meals of a roast with trimmings and Christmas pud at a good price so many opted for that.
Saturday morning at the Novotel Hotel and we were met with interesting little nibbles and drinks in the foyer outside the conference room. We were welcomed by the YL organisers with name tags before entering the room which was decorated with yellow and black balloons and our ALARA banner. There were yellow ALARA bags on each chair containing an array of interesting goodies. We all received a 40th birthday ALARA badge and lovely Certificate of Attendance. A table in the corner was spread with ALARA items for sale, badges and the new bookmarks that Lyn VK4SWE had made.
The President Tina VK5TMC opened our meet with a big thank you to the girls who organised it, Jean VK3VIP, Donna VK3FRET, Margaret VK3FMAB and Kaye VK3FKDW. Then we began eating. The three course meal was spread out over two and a half hours so we could have speakers in between courses.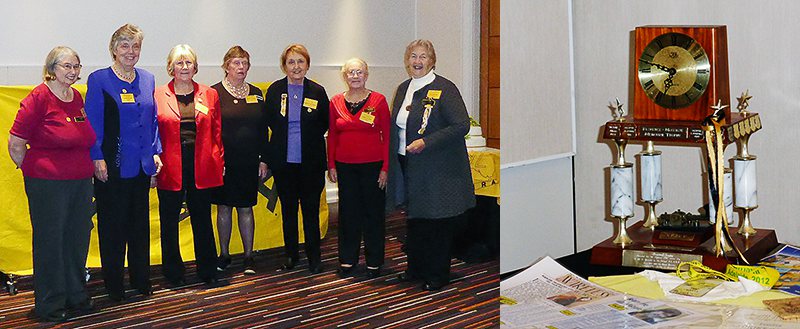 Christine VK5CTY spoke of the Early Women in Radio telling how they had to work to be accepted as radio amateurs in 'a man's world'. Florence MacKenzie, who foresaw the coming of the second world war and held classes to teach CW to men and woman in preparation, was the one who probably did the most for us ladies and we commemorate her with the Florence MacKenzie Trophy for the highest CW score in our ALARA Contest.

Norma VK2YL gave a good recount of the early days of ALARA from when it began and how it grew, with many amusing anecdotes. Some of the other founding members were able to attend the luncheon and it was great to be able to meet them, they are no longer just a name in our history. A presentation was made to Norma as a thank you for being the instigator of our club.
Jenny VK3WQ/VK5ANW, our historian, gave an interesting review about the forty year history of ALARA. Jenny had laid out a display of our last forty years on the back table including with the Florence MacKenzie Trophy.

Those with cameras were taking lots of photos of everyone, whatever they were doing, mostly in groups talking around the tables, and of course, there were formal photos of the group and cutting the beautiful cake made and decorated by Kaye VK3FKDW.
Sunday had us on a coach touring Melbourne. There was a fun run happening and it caused a few detours for our driver. He did a great job of getting us around in some difficult circumstances and he gave a running commentary on the various city sites for those who were from other states.

The first stop was at the Shrine of Remembrance. Our group had to be split in two and there were a few other groups being shown around. The museum part of the Shrine had a lot of unique and very interesting exhibits and the Shrine itself demanded quiet reverence and respect.
We were taken to the cosy Retreat Hotel for a lovely lunch. The fire was burning in a novel fireplace between two rooms. We enjoyed our time there and had to be pushed along to leave.
The last stop was the Queen Victoria Market which had little stalls of cheap items that we never knew we needed until we saw them. I think things for grandchildren were popular. The wind blew up and down the aisles so it was either walk quickly to warm up, or go and have a hot coffee. The coach came to meet us and take us back to our hotels through the rain. That was one informative, interesting, fun day and I think the OMs enjoyed it too.
The organizing committee did an excellent job arranging it all for us, thank you so very much.