ALARA AWARD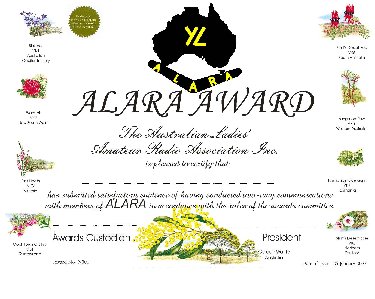 Aim: The aim is to score 10 points to qualify for the Award.
This Award is available to YLs, OMs and SWLs contacting ALARA members on or after 1st July 2006.
(Anyone who holds an original Award may apply for the new Award.)
VK/ZL: 10 contacts, including 4 Australian Call Areas
DX: 5 contacts, including 3 Australian Call Areas.
Conditions: All contacts must be made from the same call area. Repeater contacts and officials ALARA net contacts do NOT qualify, contests DO qualify.
General Conditions: Applicants must submit a log extract signed and declared to be a true record of contacts made. Headings must include Date, Time (UTC), Band, Mode, Callsign and Name of the ALARA member contacted. Addresses: Full name, address, signature and callsign of applicant are required.
Addresses: Full name, address, signature and callsign of applicant are required.
Costs: Fee, to accompany each application, for the Award is A$5 or equivalent 4IRCs.
The ALARA Awards Custodian is Marilyn
Send ALARA Award applications to:
Marilyn Syme VK5DMS
Unit 14, 142 Marian Road,
Glynde S.A. 5070 Australia
---
AUSTRALIAN LADIES AMATEUR RADIO ASSOCIATION INC.
A0031101B
37th A.L.A.R.A. CONTEST 2017
NOTE: Contest is always on the last FULL weekend of August
download this page as a pdf (160KB)
ELIGIBILITY:  All licensed operators throughout the world are invited to participate.
OBJECT:  To encourage YLs in the use of amateur radio. YLs work everyone; OMs work YLs only.
CONTEST:  Combined phone and CW run over 24 hours:
Saturday 26th August 2017  0600 hours UTC to
Sunday 27th August 2017 0559 hours UTC
SUGGESTED FREQUENCIES: All HF Bands to be used except  160m & WARC Bands 
Contacts made on ECHOLINK and TWO METRES will also be accepted. (Separate logs for these would be preferred)
OPERATION:  Single operator only (1 operator per call sign).
NB If YL is operating as a 2nd operator, her husband/partner CANNOT participate in the contest.
There must be an interval of greater than 1 hour between contacts with any one station on any one band and in the same mode.
All contacts must be made in accordance with operator and station licence regulations.
PROCEDURE:           Phone: Call "CQ ALARA contest"
CW: YLs call "CQ test ALARA"
OMs call"CQ YL"
EXCHANGES:  ALARA member:  RS (T) A , name. (59A /599A)
YL non-member, OM:  RS (T), serial no. starting at 001, name and whether YL or OM.
OMs work YLs only
SCORING:                 Phone:  5 points for ALARA member logged
4 points for YL non-member logged
3 points for OM logged
CW:       All contacts made on CW count for double points
OM:       5 points for ALARA member logged
4 points for YL non-member logged
Multipliers: 1 per VK/ZL Call area worked per band and 1 per DX YL Country


LOGS:  Single log entry. Logs must show date, UTC time, band, mode, call sign worked, report and serial number sent, report and serial number received, name of operator of station worked and points claimed.
Paper logs and electronic logs both welcome.
LOGS MUST BE SIGNED. Logs also to show full name, call sign and address of operator, and show final score (points claimed). Logs must be legible. No logs will be returned. Decision of the Contest Manager will be final, and no correspondence will be entered into.
VKCL Version 4.1.3 23rd June 2017 (Always check if there is a later version) - You need the Latest version always.

The rules for the ALARA contest were significantly revised in 2016 and VKCL has now also had a major upgrade so you will need to upgrade your copy of VKCL if you wish to use it in the contest. VKCL can now be used to log not only HF bands but also the 2 meter and EchoLink contacts too so that a single log can be submitted for convenience.
The link to download is http://www.mnds.com.au/vkcl/
Logs must be received by the Contest Manager by: 30th September, 2017
CONTEST MANAGER:  Diane Main  VK4DI
PO Box 546
Gatton Qld 4343
AUSTRALIA                    or: alaracontest@wia.org.au
Certificates will be awarded for the following:
Top score YL overall
Top score YL phone only
Top score YL Echolink
Top score Australian YL CW
Top score DX YL CW
Top score DX YL
Top score ALARA member in each country & VK call area
Top score OM in each continent & VK call area
Top score VK YL Foundation Licence holder
A trophy will be awarded for the following:  Top scoring Australian YL
Top scoring Foundation Licence ALARA member
                
The top scoring VK non-ALARA participant will be awarded 1 year's membership to ALARA.
PLEASE NOTE:  This contest is always held on the last complete weekend of August.